As I reflect back on the year, do I ponder what the most memorable technological advancements were? The most memorable national/global events? Turning points in American History? Events we'll never forget and will tell our grandkids "I remember where I was when..."? Important political figures? Prolific, meaningful movies or books? Or anything prolific at all for that matter? No! I ponder of the IT girls of the decade because I'm a silly girl with a blog.
Each year, there seemed to be another IT girl that we as a society just couldn't get enough of. We wanted to know every sordid detail of her life. Who she was, what she wore, who she was dating, what she weighed. These were the girls that either had the most amazing year, most scandalous year, or just was hands down the hottest, most talked about girl of the year. Here's my informal list.
2000 - Britney Spears
- her single "Oops I Did It Again" debuted this year and officially landed her on her quick path (albeit rocky) to pop stardom. Obviously Britney stays near the top in each year of the following decades, and unless you were under a rock the past 10 years, you'd know it too.
2001 - J LO - Her album J LO was one of the hottest album of the decade, with I'm Real, Play, and Love Don't Cost a Thing. This was J LO's year where she officially became a bonafide hottie. She wore the most outrageous bling and dated the hottest men in Hollywood. Of course, we all know she's tamed down and is a beautiful, wife and mother now known as Jennifer Lopez, but 2001 will always be known as the year J LO "was".

2002 - ?
- Honestly, I can't think of anyone to go here! Can you believe it!? I need help! Who was all the rage in 2002?
2003 - Kate Hudson
. The relatively unknown, beautiful daughter of Goldie Hawn burst onto the scene in 2003 with "How to Lose a Guy in 10 Days" and we were hooked. We loved this bubbly, quirky, cute girl like the girl next door. Nevermind her greasy husband or child with hair longer than hers, we were in love. Flashforward 6 years, and now she's just a pathetic slut. Sorry, I said it.
2004 - Paris Hilton
. The year when the tabloids and paparazzi got out of control. The year when it was socially acceptable to be considered a celebrity for doing nothing. The year of the Paris Hilton Sex Tape Scandal. The Paris Hilton obsession quickly became a nightmare, and as I posted in an earlier post, I think her time is up, even though she's been done for a looooong time.
2005 - Jessica Simpson. When a dumb bubbly blonde entered our living rooms via "The Newlyweds", we were torn in half. It was a love-her or hate-her type relationship. Was she cute and charming, or just downright stupid and annoying? However, no one can deny the obsession that ensued in 2005 when rumors that her and Nick were having marital issues. Was it her dad? Was Jessica cheating? Was Nick threatened by her success? Regardless, in 2005, they officially filed for divorce and the gossip magazines had a field day.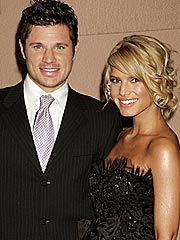 2006 - Anne Hathaway
. She'd been on our radar for many years, a strikingly beautifully, yet somehow adorable at the same time, brunette with big eyes and and mouth. But 2007 propelled her into bonafide stardom with The Devil Wears Prada. Little did we know what was in store for her in the upcoming years with her felony Italian boyfriend. But we cheered her on as she over came it and stayed just as pulled together and gorgeous as before.
2007 - Lauren Conrad
. While "The Hills" officially premiered in 2006, it wasn't until 2007 when it became a full out phenomenon for the dying MTV. It revitalized MTV, and at the same time, made stars out of ordinary people. Once again, we were obsessed with someone with little talent to speak of, a somewhat self-righteous attitude towards her friends, but killer clothes. Lauren Conrad was the new it girl for tweens, high schoolers, college, and early-professional females alike. We coveted her clothes, her hair, her life. Not only did we want to be her friend, we wanted to be her.
2008 - Michelle Obama. Perhaps the easiest to pick on this whole list. Without going to my personal thoughts about the Obamas, who I voted for, what I really think of her (hint: not a fan), there's no denying the frenzy of media attention on Michelle Obama. News correspondents were likening her to the next Jackie O. She made J Crew and Gap hot once again for middle Americans across the nation. She was someone moms could look up to and realize if she could look put together, they can throw out those mom jeans and look polished too!

Notable females missing: Lindsay Lohan, Hillary Clinton, Britney Spears in every year, Olsen twins, Heidi Klum, Jennifer Aniston, Kim Kardashian, Sarah Palin, Christina Aguilara, Lady Gaga, Angelina Jolie, Ashley Dupre, Sienna Miller, and Megan Fox. But hey, I can only pick 10, and there they are.

So, what do you think? Thoughts on 2002? Who do you agree with? Disagree with?

Disclaimer: I am not and do not claim to be a professional entertainment blogger. This list is simply my own thoughts. I did not research at all (other than rake my brain) to determine who truly was the most searched, most sought-after female celebrity that year.